A look into the Best Body Acne Washes:
Body acne is far more prevalent than we think. Mostly encountered on back, neck, arm and chest areas, it's a common issue for both men and women of all ages and especially a common issue facing athletes. Body Acne could be triggered due to various reasons; diet, teen-age acne, even the type of clothing and skincare regime to excessive stress. Whatever the reason may be, body acne could be the cause of discomfort, worry, and insecurity for many people. So, finding the right body acne product to effectively combat this common challenge is essential for you to achieve that super smooth, clear and healthy skin – from head to toe.
Based on hundreds of user reviews and a deep look into the ingredients, we provide you with an essential guide to the 5 best body washes available in the market to effectively treat body acne.

TOP
PICK




Exposed®
Body Acne Kit
Murad®
Acne Body Wash
CeraVe®
Body Wash for Rough & Bumpy Skin
Mario Badescu®
A.H.A Botanical Body Soap
Neutrogena®
Body Clear Acne Treatment Body Wash
Recommended for:
All skin types including sensitive skin
Recommended for:
Normal, oily and combination skin
Recommended for:
Dry itchy skin
Recommended for:
All skin types
Recommended for:
Normal, oily and combination skin
Uses microdermabrasion and deep pore penetration to remove dirt and oil, and kill bacteria
Gentle formula with pure natural extracts
Applies Exposed Skin Care's signature combination of science + nature
Paraben and sulfate-free
30-day guarantee to deliver results
Value for money
Exfoliates and deep cleanses to remove dirt and oil
Paraben and sulfate-free
Exfoliates and deep cleanses to remove dirt and oil
Fragrance and paraben-free
Non-comedogenic formula
Affordable
Deep cleanses to remove dirt and oil
Affordable
Non-comedogenic formula
Oil-free
Affordable
Exposed Skin Care Body Acne Kit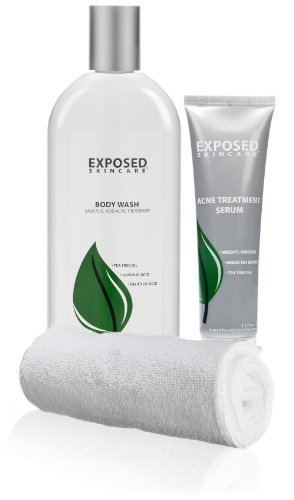 Pros: We've chosen Exposed Skin Care's acne treatment kit as our top pick due to its more comprehensive approach to target body acne compared to other products in the market. It combines Salicylic Acid and oil reducing natural ingredients. Remarkably it leaves your skin feeling clean, clear and refreshed without the over drying seen with some of the cheaper options.
The active ingredients of this Body Wash include salicylic acid to help clear and shrink pores, provitamin B5 to control production of oil, and sage extract to combat irritation and the drying of the skin. The Acne Treatment Serum also contains 3.5% benzoyl peroxide, which is known for its ability to deep cleanse pores and kill acne-causing bacteria. These gentle formulas are free from paraben and sulfate, and are great for all skin types including sensitive skin.
To really boost the acne fighting power we would look at the full Exposed Back and Body Acne Kit. It includes the deep cleansing body wash with exfoliating effects and a large-sized Derm-X body cloth that uses microdermabrasion to remove dead skin cells, dirt and sebum. It also comes with 2 tubes of the Exposed Skin Care Acne Treatment Serum to apply after shower, which adds all-day breakout fighting power to help clear pimples, clogged pores and prevent new blemishes.
Cons: Results come at a cost – this is a bit more expensive when buying alone. A little goes pretty far so this 12oz bottle will last you for a while. For best results, Exposed Skin Care recommends using all 3 products together instead of just the body wash. However, the 3-step kit is definitely value for money considering the price of the 3 products and their combined effect on fighting body acne.
Murad Acne Body Wash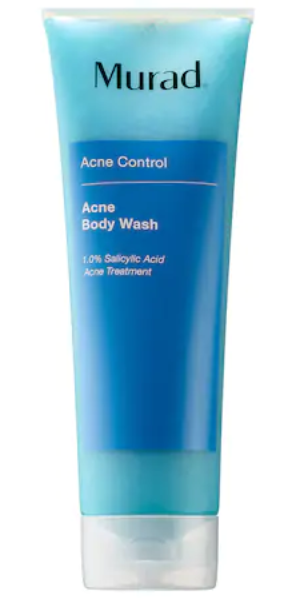 Pros: This body wash contains 1.0% salicylic acid to penetrate deep into pores, while the exfoliating action of date seed powder and glycolic acid helps remove dirt and oil that are clogging pores to achieve a clearer and smoother skin. Green tea and licorice root extracts in the formula help soothe any inflammation and irritations. This wash is good for light acne or fighting blackheads on the back. This product is also paraben and sulfate-free and is great to prevent future breakouts and will not over-dry your skin.
Cons: The fragrance of the Murad Acne Body Wash could be slightly strong for some people. Retailing at around $44 for 8.5oz, this is priced significantly high compared to most other products in the market.
CeraVe Body Wash for Rough & Bumpy Skin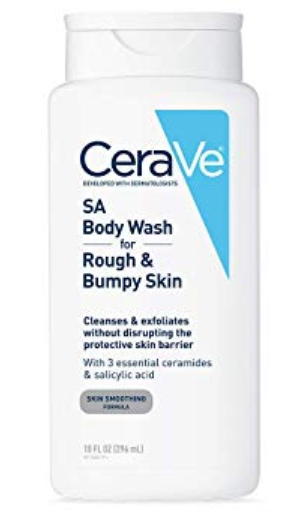 Pros: This product exfoliates and deep cleanses the skin using salicylic acid and lactic acid to leave the skin smooth and soft. It also contains a number of active ingredients such as ceramides, hyaluronic acid, and niacinamide to help restore the skin's natural barrier, hydrate and retain moisture for 24 hours as well as to improve the texture and appearance of the skin. Its a good option if you don't have major breakouts, but are more looking to improve your Skin tone. It's a fragrance and paraben-free body wash that is also non-comedogenic and therefore ensures that it doesn't clog pores. The formula also doesn't contain any microbeads to prevent skin irritation.
The CeraVe Body Wash for Rough & Bumpy Skin is one of the most affordable body washes currently available for effective body acne treatment.
Cons: This may not always give the best results for certain skin types like highly sensitive skin or for people with more than very mild acne.
Mario Badescu A.H.A Botanical Body Soap
Pros: This grapefruit-infused body wash from Mario Badescu is recommended for all skin types for daily use. Its formula contains fruit enzymes, ginseng, and linden to break down dead skin cells and deep cleanse the skin, leaving it fresh, smooth and revitalized. Oat proteins help heal and soothe sensitive skin. While not a true acne treatment product, it will help reduce the excess oils well – so a good option if you are looking to cleanse and remove excess oils.
This is an affordable product, which also happens to be the best-selling body wash for Mario Badescu.
Cons: Use this body wash with care if you have hyper-sensitive skin.
Neutrogena Body Clear Acne Treatment Body Wash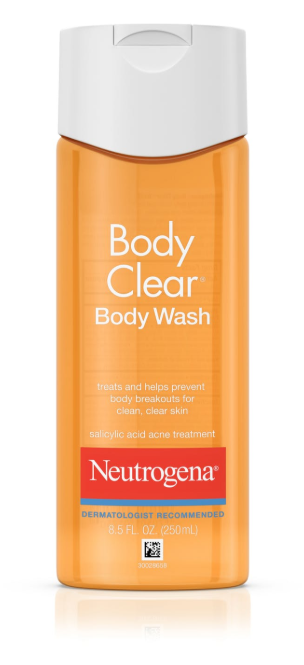 Pros: Salicylic Acid serves as the active ingredient in this product to help fight body acne breakouts. This body wash has a foaming lather that washes off easily without leaving any residue that could potentially clog pores. Its non-comedogenic formula is also oil-free and therefore works well with oily skin.
The Neutrogena Body Clear Acne Treatment is one of the best drugstore body washes that comes with an affordable price tag. It is very oil-fighting. Almost too much so! But if you're in a pinch and a drug store option is your only choice this could be the best option.
Cons: This is not recommended for sensitive skin as it can lead to excessive drying and skin irritation.